Wetherspoons quit social media - sense or silliness?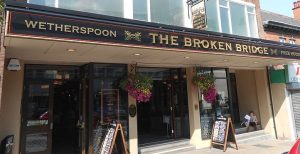 In a move that has surprised many in the hospitality industry and beyond, Wetherspoons chairman Tim Martin has announced that all of their pubs will be removing their presence from social media.
"We are going against conventional wisdom that these platforms are a vital component of a successful business.... I don't believe that closing these accounts will affect our business whatsoever, and this is the overwhelming view of our pub managers.  It's becoming increasingly obvious that people spend too much time on Twitter, Instagram and Facebook, and struggle to control the compulsion."
So do they have a point? 
Firstly, from a PR point of view this move makes a lot of sense.  Facebook is under scrutiny surrounding its privacy controls, and social media as a whole is facing the challenge of anonymous 'trolling', so to appear to be taking a stand against this by cutting involvement is a potentially populist course of action.  More than that, such a grand gesture has ensured that Wetherspoons has made it onto the front page of many national newspapers, people are discussing it, and social media executives like me are writing blogs about them.  That in itself has tremendous worth.
From a more general business point of view, the merits are more vague.  For such a large company with so many outlets, they already have a solid customer base, and they will be doing all they can to encourage their fans to stay in touch directly with the company by joining mailing lists, reading their magazine, etc.  They can afford to pump vast sums of money into advertising on other streams, and they seem happy to focus on those.  Seemingly, they had sufficient evidence to suggest that the limited success of their social media wasn't justifying the expense.
What are the problems?
For us, one of the main issues is interaction.  It's wrong to see social media as a one-way stream of promotion.  Like it or not, people will talk about a brand like Wetherspoons on social media.  By closing their profiles, Wetherspoons have ensured they can no longer be part of that discussion.  Tim Martin himself has accepted that people are spending huge amounts of time using these platforms, so in that there is a tacit acceptance that there is much potential to be tapped.
What we would agree with, is that a badly maintained social media presence is not worth investment.  Wetherspoons didn't seem to have an effective overall strategy and for a company of their size, there was a surprising lack of engagement.  Unfortunately, many people who use these platforms misunderstand what each is good for and end up spreading themselves too thinly.  Despite how many of us use it on a daily basis, social media can be difficult to get right.
It's also very easy to make your social media work unaccountable.  With our clients for example, we always ask for Google Analytics data so we can chart web traffic from social media sources, conversions, and understand how many leads we are getting.  We can only hope that Wetherspoons have an advanced understanding of their own metrics, and have a long-term plan.  It may well be that their social media really has been so unsuccessful that the impact on their business would be negligible, but we would say that is an issue with the quality of their feeds rather than the medium itself.
It would also be a mistake to graft this sort of action from a corporate heavyweight onto a small business context.  Wetherspoons can afford vast multi-channel advertising campaigns and they know that they already have a pretty solid user base.  For many small businesses however, both within the hospitality sector and elsewhere, social media will remain as one of the most affordable and effective ways to advertise.
In conclusion
From us, the message is still the same.  Social media works for business, and for small business it's invaluable.  We can cite countless examples of clients who have only continued to use our services because our work with social media has secured them paying clients and customers.  We have quantifiable metrics that prove undeniably that social media can play a big part in lead generation - one client has seen bookings increase by nearly 40%.
So be vigilant and mindful in your social media use; have a strategy, and continually keep your eye on the metrics to see if it's paying off.  But stick with it.  Social media will change, but it isn't going anywhere for a while.
If you need a hand formulating a strategy, or want a helping hand with your profiles, get in touch for a no-obligation chat.
Hey, like this? Why not share it with a buddy?
Related Posts